Free Things To Do In San Francisco
To get you out the door and on your way, here is the shortlist.  Continue reading to learn more about each of these.  Also, check out the Activities area of this website for more free things to do in San Francisco.
Free SF Tour
City Guide Tours
Chinatown
Lands End
Grace Cathedral
If you want to do San Francisco on a budget, you're in luck.  There are loads of things to do for free.  I've spent years touring and researching the City and have compiled some of my favorite places to see for free.  Below, I list five of them, but there are so many more.  This list doesn't include some of the more obvious sightseeing that one should certainly do and are also mostly free such as: the Golden Gate Bridge, the Trans America Building, Lombard Street and the Cable Cars to name a few.  I'll leave those to the other, more mainstream guides.  I wanted to put together a list of places to see that you don't usually get from the more generic sources.
Please feel free to contact me if you have any questions or if you'd like to add to the list!   Sharing is how we celebrate this beautiful city.  Click on the Contact Us tab and shoot me a note.  I'd love to hear from you.
5 Awesome Free Things to do in San Francisco!
Yep, San Francisco is expensive – really expensive.  The cost of some hotels can make you think twice about coming to this town.  Fortunately, I know the truth about the City by the Bay.  In truth, it's the bargain of a life time.  You just need to retrain your focus on the amazing adventures that await you in this city – for free.  I've listed here five of my favorite free things to do in San Francisco.
Did I say "free"?  I know you're thinking "Crazy lady, nothing is free in San Francisco!"  Let me take you on a journey of my wonderful city and reveal to you the true nature of this town and I promise, you will leave a piece of your heart in San Francisco.
San Francisco is built on the idea that everyone is welcome.  Differences are embraced and celebrated.   This inclusive attitude extends to the accessibility of her treasures.  They are accessible to all.  Following is just a taste of the adventures that are free and just waiting for you to come and explore.  For more amazing free things to do in SF, check out the Activities area of this website which lists points of interest and things to do by district.
Free SF Tour
I am guilty of taking Hop-On Hop-Off tours when I visit other cities.  They're easy and convenient.  Unfortunately, they are also expensive, limited in time, frequently frustrating when you can't hear the guide (if there is one) and too much time is wasted trying to figure out where and when to catch the next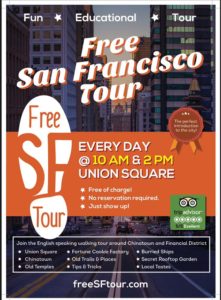 bus.  Constantly keeping track of time to catch the next bus and hoping to get a decent seat can distract you from enjoying the priceless experiences you should be enjoying.
Free SF Tour is a 2.5 hour tour hosted by amazing tour guides.  I took it recently to check it out.  It was AMAZING!!!  I've been on a LOT of tours in SF and this is definitely one of the best.  The tours are offered every day at 10 a.m. and 2 p.m.  The tour conveniently starts in Union Square.
FreeSFTour
Daily 10 a.m. and 2 p.m.

Meets in Union Square

Cost is free, tips accepted
This tour is highly rated on Yelp for a good reason.  The founder, Filip, is a master at story telling and it is clear he has done extensive research on the sights he highlights.  Personally, I am grateful to people like Filip that take time to research and teach about the nuances of San Francisco.  People like him help keep our history alive.
Although there is no charge for the tour, please tip the guide if you enjoyed it.  It's two and a half hours and they do a great job of making sure you enjoy yourself along the way.  The time flies thanks to the attention the guides give to their subject matter and their guests.
This tour is perfect for anyone whether you're here on a short visit or you've lived here for years.  I learned so much about our City that I never knew!  Check it out at:  www.freesftour.com.
City Guide Tours
Please, please, if you come to San Francisco, I beg you to try San Francisco City Guides. 
City Guide Tours
Every day except Xmas
See website for details.
Cost is free. Donations accepted.
City Guides is sponsored by the San Francisco Public Library and tours are conducted by volunteers.  The volunteers go through six months of training and do the tours out of love for the City, not money.  In my opinion, these are the best tours you can take in San Francisco, period. Donations are accepted, but there is no pressure to contribute.  The best part is that there are several tours throughout the City every day of the year, with the exception of Christmas.   Please note that groups of eight or more are not allowed on regularly scheduled tours.  If you have a large group, contact City Guides to discuss a tour for your group.  Also, there is a list of wheelchair accessible tours on the City Guides' website.
City Guides offers over a hundred different tours.  I have been on several and look forward to taking many more.  This is definitely on of my favorite free things to do in San Francisco.  You can find their schedule on their website at sfcityguides.org.
Chinatown
Ooooooo!  Just writing "Chinatown" makes me want to go.  I love the colors – red and gold everywhere. The din of
Chinatown
Explore on your own

Day time or early evening

Check out grocery stores and shops
sound coming from the community shopping and chatting with neighbors and the distinct notes of an erhu (a one string violin) playing down the street.  The unbelievable bargains to be had for a variety of things from tourist souvenirs (I still buy them when I go, I can't help myself) to Chinese grocers carrying all sorts of curious ingredients you won't see in commercial chain stores.  The sights and smells of these grocers will transport you to another world.  You will be immersed into one of the best parts of San Francisco, its Chinese heritage.
I've spent hours walking around Chinatown submerging myself in this uniquely distinct community.  City Guides has a few tours of Chinatown that shed light on the storied past of this community,  the events that brought them to San Francisco, how this community engages with the rest of the city and the rise of many successful entrepreneurs, professionals and politicians that are important to the  fabric, history and future this city.
Take a walk around Chinatown, experience the sights, smells and sounds of one of our city's most important and certainly most interesting neighborhoods.  Be sure to check out Portsmouth square.  This is the "living room" of the community where residents come to play, socialize and build the strong relationships that tie them to each other and the rest of San Francisco.
Lands End
The Cliff House and Sutro Baths are staples on a tourist's agenda.  Lesser known, but oh so much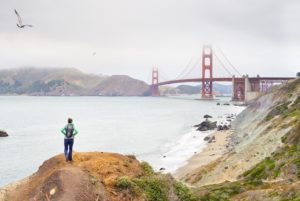 more beautiful is Lands End.  Lands End is a trail that connects the Sutro Bath ruins to China Beach.  It is a one and a half mile, well maintained trail that runs along the ocean.  The vistas are spectacular.  The Golden Gate Bridge, Marin Headlands and Pacific Ocean make this one of the most spectacular views in a city full of amazing sights.  They say you can see ruins of old ship wrecks during low tide.  I haven't witnessed these myself, but plenty others have.
Lands End
Explore on your own
Visit during day light hours
The air here is fresh with the scent of Cypress trees and ocean breeze.  Surprisingly, this area is often clear of fog and wind.  Enjoy the languid trail but, please heed the warning signs along the trail.  People continue to go beyond these signs and we continue to have deaths as a result.  Enjoy the view, but don't stray beyond roped areas.
The trail is varied.  Moving from wide to narrow, smooth to rocky and there is an area with steep stairs, but you will be rewarded with amazing views for your efforts.
Grace Cathedral 
Sitting atop Nob Hill is the church of the people of San Francisco.  Although it is an Episcopal church, Grace welcomes people of all faiths.  To me, Grace Cathedral sums up San Francisco.  Although we each have our own beliefs, we love our friends, neighbors and those we have not yet met.  In Grace, as in this City, there is a place for everyone. 
Grace Cathedral
8 a.m. to 6 p.m.
See architecture, art and labyrinths
Grace has a rich history dating back to 1849.  The original church burned after the earthquake in 1906.  The storied reconstruction of the church spans several decades and was finally complete in 1964.  Today, the church holds many treasures deeply meaningful to San Francisco.  The murals on the interior walls of the church tell the history of San Francisco.  The church holds amazing treasures, works of art, indoor and outdoor labyrinths and the AIDS Interfaith Memorial Chapel.  A trip to San Francisco is not complete without a visit to Grace.
The cathedral is open 8 am – 6 pm most days.  Get more information on their website at: www.gracecathedral.org
These are but a few of the delightful sights you can enjoy for free in San Francisco.  I haven't  mentioned the Cable Car Museum, Civic Center, Fisherman's Wharf, Pier 39, AT&T Park (with our champions, the Giants).  I didn't even touch on St. Patrick's Church, Golden Gate Park, Golden Gate Bridge, the Painted Ladies, Union Square, Chrissy Field, the Presidio, Coit Tower, the Rincon building and on and on.  You can explore some of these in the Activities section of this website. There are so many wonderful things to do and see in this town.  Don't let the cost of hotels scare you (check out alternatives like AirBNB or VRBO).  This town is priceless!
Finally, if you visit any of these attractions or others not listed here, please drop us a line and let us know your thoughts.  FRUGALinSF's mission is to be a place to share information about how to enjoy San Francisco and life in general.  Sharing is a way we connect and build on that enjoyment.  All comments are welcome!